Regular price
Sale price
$ 24.00
Unit price
per
Sale
Sold out
Description

Saint-Bernard Balm Analgesic Cream is used topically as a supplementary treatment for muscle, tendon and ligament pain in adults.
How to use

For external use only. Massage into the affected area once or twice per day until cream is completely absorbed.

Do not use this product for more than 5 days. Wash hands after use.

Do not use:
– if you are allergic to salicylates or substances with similar effect, or to any other ingredients;
– if you are asthmatic;
– on mucous membranes, the eyes, weeping skin conditions, eczema, infected skin lesions or cuts; do not apply underneath dressings;
– if you are more than 6 months pregnant;
– if you are epileptic; or
– if the presence of terpene derivatives poses a risk:
– to babies under 30 months; or
– to children who have previously experienced seizures (febrile or non-febrile)
Ingredients

Pharmacological Properties Analgesic (musculoskeletal system) Contains terpene derivatives to lower the seizure threshold. 6. Pharmaceutical Data 6.1: Excipients Stearic acid, ethylene glycol monostearate, light liquid paraffin, essential lavender oil, trolamine, purified water, shea butter 6.2: Shelf life 2 years 6.3: Storage Instructions Store below 25 °C. 6.4: Packaging Sealed aluminium tube (weight: 42, 75 or 100 g) with internal epoxyphenol coating 7. Marketing Authorisation Holder MERCK MEDICATION FAMILIALE SAS 37 RUE SAINT-ROMAIN 69379 LYON CEDEX 08FRANCE 8. Marketing Authorisation No. 341 551-7 100 g tube (coated aluminium) 9. Prescription and Delivery Conditions Non-prescription medicine
Share
View full details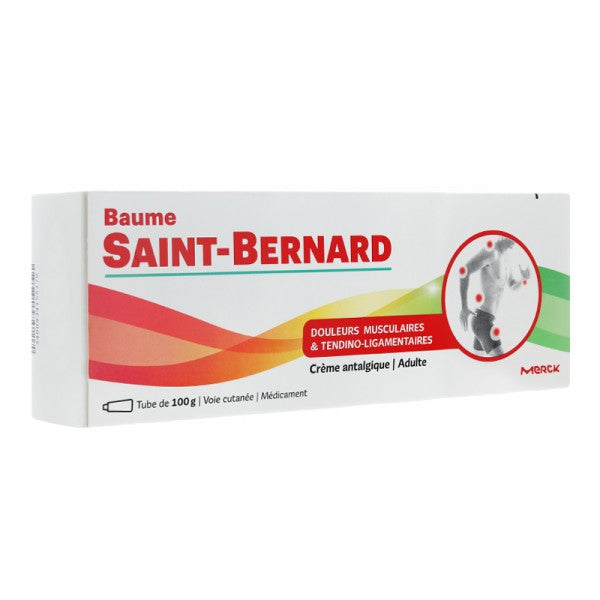 Sore muscle relief
I first discovered Saint Bernard Crème in France while on a 500 mile hike. Love this product. I used it for my sore legs after a day of hiking. Thrilled that it is now available in the US. Bought this tube to accompany me on a 200 mile hike in Italy. Ciao!